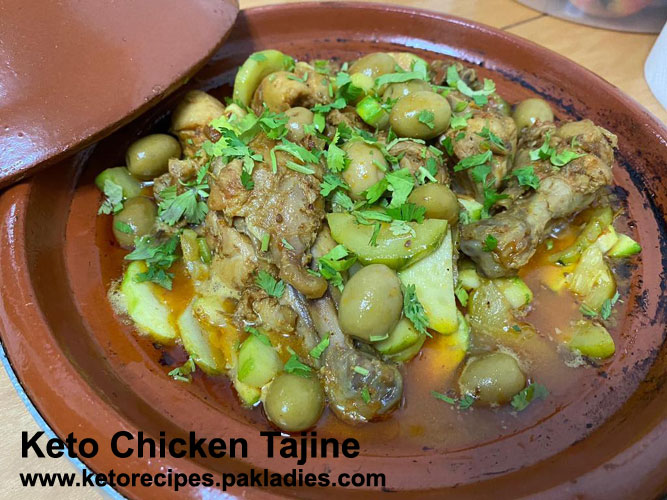 Keto Chicken Tajine is a new variation of one of the most famous dishes in Moroccan cuisine. Tajine is a stew made in the container of the same name, typical of Moroccan cuisine. This recipe for chicken and vegetable tagine is one of the simplest that can be made in this magnificent clay pot with a conical lid, once we have cured it or prepared it for use in the kitchen.
Once prepared, the tajine can be kept at serving temperature for almost an hour, simply by keeping the lid on until serving time, making it comfortable if you have to do other things. It is normally served with naan or khubz or any other kind of bread. However, today I'm going to show you a brand new way to make it. This Keto Chicken Tajine is for anyone that follows the keto diet and is health conscious. Most of the ingredients are the same as traditional tajine, but we've changed the technique and served it with salad, instead.
Keto Chicken Tajine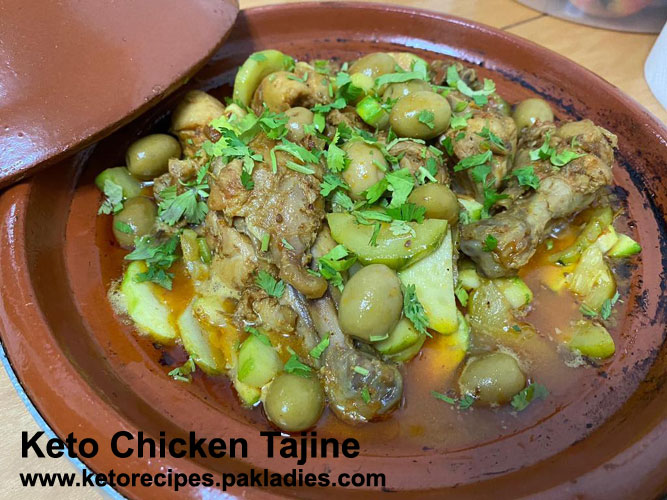 Ingredients
1/2

kg

chicken

1/2

tsp

cumin seeds

crushed

1/2

tsp

coriander

crushed

1/2

tsp

black pepper

1/2

tsp

paprika

1/4

tsp

cayenne pepper

3/4

tsp

red chili powder

salt

2

tsp

ginger garlic paste

3

1/2

olive oil

extra virgin

2

tbsp

onions

300

g

zucchini

1/3

cup

tomatoes

1/4

tsp

turmeric powder

1/4

tsp

olives

fresh coriander
Instructions
Take a bowl, add chicken and oil. Now add all ingredients for marination. Mix well and wrap in cling film. Set aside for half an hour.

Take a clay pot and heat it up on low flame with oil.

Once the pot has warmed up a bit, add onions. Fry well and turn up the heat.

Peel and cut zucchini in slices. Set aside.

Add tomatoes to tajine and cook well.

Now add turmeric powder and red chili powder. Then add some water to the mix to soften the tomatoes. Now add the chicken.

Cover the tajine and cook on dum for 5 minutes.

Once the water has dried and you can see the oil, add the zucchini.

Garnish with olives and fresh coriander.

You can serve tajine with salad if you're following keto, or with naan or any kind of bread if you're not.
Nutrition
Calories:
211
kcal
|
Carbohydrates:
5
g
|
Protein:
17
g
|
Fat:
14
g
|
Saturated Fat:
4
g
|
Cholesterol:
60
mg
|
Sodium:
82
mg
|
Potassium:
451
mg
|
Fiber:
2
g
|
Sugar:
3
g
|
Vitamin A:
686
IU
|
Vitamin C:
23
mg
|
Calcium:
25
mg
|
Iron:
1
mg